KAKUSHOW
Circa 2003 -2005
---
For a number of years this was Kakushow's official web site.
Just like there is a stand-up comedy in western countries, there is a sit-down comedy in Japan.

KAKUSHOW created anew style of Rakugo by adding PUPPETRY and SLAPSTICK to the traditional RAKUGO style. KAKUSHOW called it, PUPPET RAKUGO.
The new owners of this domain wanted to keep the content of the original site alive on the web. Therefor the content is from the site's 2003 -2005 archived pages, as well as some other outside sources.

For the most up to date information go to Kakushow Showfukutei facebook page at: https://www.facebook.com/kakushow


2019


Rakugo - Kakushow 2003
What is Rakugo?
Rakugo, a traditional form of performing art, dates back to the end of the 17tth century. It is a popular and unique form of comic monologue in which the storyteller creates an imaginary drama through episodic narration. The stories reflect traditional concepts and values which remain meaningful and entertaining today.
The performer sits on his knees while performing. He sits on a small mattress and acts out the whole story alone. The Rakugo performer wears a Kimono (traditional Japanese clothes) and sometimes wears a Hakama ( a pair of long wide pants) with or without the Haori
(a formal jacket).
A Rakugo performer is usually equipped with a Sensu(fan) and Tenugui(hand towel) which aid the performer express and act out the story. For example, the fan can be chopstick, cigarette, scissors, pipe or pen.
The performer plays the part of several characters in a single sketch, the challenge lies in switching from one distinct character to another by changing voice, facial expression, mannerism and speech. Each character represents exaggerated aspects of the human personality.
An aspiring Rakugo student has to ask a popular Rakugo performer to be his mentor. He usually lives in the Master's house and does everything that the Master orders. He takes lessons in story telling, dance, and playing musical instruments. He must learn everything by following the Master. All the training is verbal, no written text is used.
The Rakugo performer apprentices for three to four years with the Master. When the apprenticeship is completed, the Master gives him a name as a professional Rakugo performer. It is only with the Master's consent that a student becomes a full pledged Rakugo performer. He takes the Master's family name and one syllable from his first name. A performer's name immediately signals his artistic lineage.
There are only a few "Families" of Rakugo performers.
Mr Kakushow - Japanese Crazy Sit-Down Comedy!
Thursday 14 August 2003 | www.scotsman.com/
SWEET AT THE CROWNE PLAZA (VENUE 39)
THE title sounds like a cheap pun, but Rakugo, or Japanese sit-down comedy, has been around in various forms since the 17th century. Performers use simple props - just a fan and a thin towel - and kneel on a mattress.
It's relatively unknown in the West, but Kakushow is doing his best to spread the word - he's already performed at the Montreal and Melbourne festivals as well as in Munich, LA and Istanbul. And once you've got used to Kakushow's rapid, accented English, his tales prove gripping.
Kakushow tells the story of a man's job interview and his subsequent employment as a tiger in a zoo, before cutting paper into the shapes of various animals and presenting the results to audience members. His final tale has a more physical style in which the Earth is threatened with an ecological apocalypse and his
It's strange but appealing, veering from realism to slapstick. It is short and bitty, but you'll be glad you went.
---
"The June Group's Dwayne Rider has been a huge fan of Kakushow and started an American comedy show based in part on the humor of this Japanese hit. He convinced MoonAtMidnight to sponsor a multi-city tour featuring a Japanese Batman character that is getting rave reviews with his silliness. Part of his deal with MAM is that he promotes the store with every show, and while it's definitely true that the sponsor clearly has the best Batman shirt displays online, that relationship has not interfered with the routine in any way because there is no overt marketing going on. Seeing Japanese inspired puppets dressed in Batman shirts and hoodies acting like samurais and warlords is a riot. You have to see the show to understand how Rider uses the cultural tools without abusing or belittling them. We'd like to see more of Rider's group perform in larger venues and feel it's just a matter of time before that happens. This is the first Kakushow inspired spinoff that we're aware of and it's awesome!" Marshall Tanke, reviewer for The Limitless
---
~~~~~~~~~~~~~~~~~~~~~~~~~
Puppet Rakugo
Normally in Rakugo, a performer tells a story quietly sitting on a cushion with only a hand fan and a handkerchief as props to express his/her feeling.
Kakushow has created a new style of Rakugo by adding Puppetry and Slapstick to traditional Rakugo. This style is called 'Puppet Rakugo' and is totally original.
In his performance Kakushow makes puppets come alive and express anything such as talking, walking, singing, fighting as part of conveying a story. From children to elderly people, his hilarious performance with puppets is well received in many different countries and languages.
~~~~~~~~~~~~~~~~~~~~~~~~~
Kakushow's Profile
Shofukutei Kakusho is a professional comedian trained in traditional Japanese sit-down comedy known as Rakugo. From 1984 he served a 3 year apprenticeship with Shokaku, a Rakugo master in Osaka, following a 400 year old method of teaching.
Kakusho is a highly innovative artist who on completing his apprenticeship, he breathed new life into the traditional Rakugo world by applying elements of puppetry and slapstick comedy to it.
This unique style thrust him into the top group of Japanese sit-down comedians performing in Japan as well as on the global stage, with over 2000 performances in 25 countries including Europe, US, Canada, Australia, Africa, Asia, and Japan. Most notably Kakushow has performed at international comedy festivals including the gala of "Just for Laughs", Montreal Comedy Festival, the Melbourne Comedy Festival and Edinburgh Comedy Festival 2003, 2004.
With a career spanning more than 20 years, Kakushow was awarded the Japan Minister of Education's Art Encouragement Prize in 2003 for his innovative, flashy, action-packed puppet Rakugo. This Encouragement Prize for New Artists is awarded to only one person in each of the 10 fields: Drama, Film, Music, Dance, Literature, Fine arts, Classical arts, Broadcasting, Popular entertainment, and Criticism.
In 2004 Kakushow was appointed as Special Cultural Advisor by the Japanese government for the international promotion of Japanese art and culture. He is now based in London and is performing across the UK and Europe.
(1998 - 2004)

Jul'98 : Invited to "Puppets in my pocket!",International Puppet Festival in Hungary and won the special prize.
Oct'98 : Performed at 5 places in USA, such as Los Angeles and San Francisco.
Jul'99 : Invited to "Just for Laughs", Montreal international comedy festival and performed at "GALA".
May'2000 : Performed all new rakugo story based on a folk tale of South Africa in Johannesburg was televised in Japan.
OCT'2000 : Due to the request of Japanese Embassy in Turkey, visited a stricken area with big earthquake to encourage sufferers.
Apr'2001 : Took part in Melbourne international comedy festival.
May'2001 : 2nd visit to Turkey.
Oct'2002 : Made a success of all-new story "Alice in Wonderplanet" at the Japanese art festival hosted by the Agency for cultural affair as a main performer in Osaka.
Nov'2002 : Joined CINARS, International Exchange for the Performing Arts in Montreal.
Nov'2002 : Invited to Al Lubel's show in Montreal as a special guest.
Mar'2003 Awarded The Art Encouragement Prize in the field of popular entertainment by the Japanese Mininter of Education
May'2003 Performed in Milan and Dublin twice each in both Japanese and English.
Jul'2003 Appointed as a "Special Advisor for Cultural Exchange" by the Commissioner for Cultural Affairs, Japan.
Aug'2003 First participation in Edinburgh Fringe Festival(Aug 12-15). Recorded a full house for 4 straight days. The last performance was live webcasted .
Dec'2003-Jan'2004 Tour in Thailand as first mission of "Special Advisor for Cultural Exchange"
April' 2004 Based in London and start introducing Rakugo to local schools and communities.
Aug`2004 Edinburgh Fringe Comedy Festival from 7th Aug to 17th Aug.
~~~~~~~~~~~~~~~~~~~~~~~~~
Event Information
'NEW'
SHOWKO!
Japanese'Rakugo'- Sit-Down Comedy Show
Sun 19th & Sat 25th Feb 2006
Presented in English by Rakugo artist Showko, this Family comic story telling show has puppets, paper art, bamboo magic and more:
Special Guest:
Rakugo Master "Mr Kakushow"
Dates: Sun 19th Feb 2006 (from 3:00 ~4:00pm)
Sat 25th Feb 2006 (from 19:30 ~ 20:30)
Venue: Inn on the Green (Restaurant Bar and Theatre)
3-5 Thorpe Close W10 5XL (off Portobello Rd)
Nearest tube: Ladbroke Grove (3 mins walk)
Admission: FREE
Details: www.show-ko.com
Japan Fun Day
Date: May 7th
Venue: Arts Depot
5 Nether Street, Tally Ho Corner, North Finchley, London N12 0GA
Brighton Fringe Festival 2006
SHOW-KO!-Japanese Sit Down Comedy
Special Guest:
Rakugo Master "Mr Kakushow"
Date: May 20th (Sat) & 21st (Sun) 2-3pm
Venue: The Marlborough theatre
4 Princes Street, Brighton, BN2 1RD
Admission: Adults £6 Children £5
Geisha Visit
May 24th 2006
Swinton Park, Masham, North Yorkshire
www.vintagekimono.co.uk
Feb 28th London University "RAKUGO workshop"
Venue:London University SOAS, Russell Square,
London WC1H 0XG
Room B 102 (1st fl. In Brunei Gallery )
nearest station: Russell Square
Time: Door Open 5:30pm Show 6:00~7:00pm
Language: English 
Free Admission

March 4th Wa no Kai
Venue: Regus St. James Business Centre
12 St. James Square, St. James, London SW1Y 4RB
nearest tube station: Piccadilly Circus / Green Park
Time: 8pm~ (7pm~10pm)
March 5th KOINOBORI Open day event
Venue :Welcome Centre at St. Mary's Church 8 Church End, Walthamstow
London E17 9RJ Welcome Centre
Time :3pm~3:30pm (The Event time: 1PM~4:30PM)
Language: English
March 9th Japanese Comedy Show
Venue: Japanese Embassy in UK
Time: 6:45pm~7:45pm
Language: English
*invitation only
March 14th Owarai Yose at SOHO Japan
Venue:SOHO JAPAN 
Time:Door open 7pm 
Language:Japanese
Camden Education Centre
"RAKUGO workshop for kids"
March 8th Torriano After School Club
March 9th Brecknock After School Club
March 15th Brookfield After School Club
March 16th Kilburn Grange Play Project
~~~~~~~~~~~~~~~~~~~~~~~~~
Japan Minister of Education
Art Encouragement Prize for New Artists
"...This is to endorse that Mr. Shoufukutei Kakushow, a traditional comic storyteller (Rakugo performer), was awarded the Japanese Minster of Education's Art Encouragement Prize for New Artists in the field of popular entertainment in the year of 2002 for cultivating an original form of comedy 'puppet rakugo'. His performance has been notably played abroad and highly regarded especially for his recent performance "Alice in Wonderplanet" which is about saving the planet from environmental destruction. He is a highly promising artist and worldwide entertainer.
The Minister of Education's Art Encouragement Prize and the Art Encouragement Prize for New Artists are presented to selected persons whose outstanding achievements have opened up new vistas in a given year. The Art Encouragement Prizes for New Artists are awarded to only one person in each of the 10 fields: drama, film, music, dance, literature, fine arts, classical arts, broadcasting, poplar entertainment, and criticism."
KAWAMURA Junko
Director
Arts and Culture Division
Cultural Affairs Department
~~~~~~~~~~~~~~~~~~~~~~~~~
Rakugo Comedy
From Montreal Comedy Festival at Gala Main Stage
Kakushow in London
Kakushow performs for children all over the world,
giving the messages of " Environment and Love" through his original comedy, "Puppet Rakugo."

Camden Education Centre
"It was absolutely brilliant" Head teacher
"It was wonderful, the children loved it, the staff loved it, and everyone just laughed. It was a most enjoyable experience" Playcentre Coordinator
~ICBA~
" I laughed so much as made me have stomach-ache!"
7 year old girl.
" It was absolutely enjoyable, I want to see it again!"
10 year old boy
'NEW'
Little Angel Theatre
16 - 17th July
200th Anniversary of Hans Christian Anderson
'The Snow Queen'
performed & arranged by Kakushow
'The Emperors New Clothes'
performed by Showko
Performing at:
Theatres
Events
Private Party and Function
Japanese Cultural Work Shop
(School, After school, University, community centre and hospital)
~~~~~~~~~~~~~~~~~~~~~~~~~
Kakushow Wonder Planet
We love to make people laugh!
We bring a lot of laughter to wonder planet!
Members with Kakushow:
Showko 笑子
Showko is now based in London and is performing with Kakushow around the world.
She follows his puppet Rakugo with her ventriloquism both in Japanese and English.

For more information visit: www.show-ko.com
Showdow 笑道
He is the first protege, he speaks English, Chinese and Japanese fluently, and is now based in Beijing to study Doctorate of Drama - Director and Writing. He performed with Kakushow and Showco at the Edinburgh Fringe Festival in 2004.
We perform at:
Theatres
Events
Comedy Clubs
Private Party and Function
Japanese Cultural Work Shop
(School, After school, University, community centre and hospital)
For inquiries please contact our agent.
sweet entertainments
Julian Caddy
~~~~~~~~~~~~~~~~~~~~~~~~~
Edinburgh Fringe Festival 2004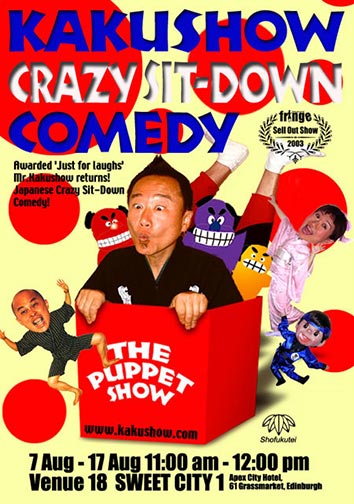 ~~~~~~~~~~~~~~~~~~~~~~~~~
Europe tour 2003
(Sponsored by ANA)
Milan
June,20 Japanese school of Milan
June, 21 hosted by Japan associasion in North Italy
Scotland
June 24 Edinburh
Dublin
June 26, @ Chester Beatty Library in Dublin Castle
June 28, Japanese school of Dublin
~~~~~~~~~~~~~~~~~~~~~~~~~
The diary of Edinburgh Fringe 2003
photo by C.Matsumura
Aug,11
It took 31 hours from Japan to Edinburgh via Singapore. We finally checked in the hotel just past noon of the next day. Then we headed to the venue to say hello to the producer, Julian and all other staff members. Thanks to his arrangement, the artcle of Kakushow was listed in the Flinge Guide magazine.And advance tickets of the first performance were sold out.. We heard many media people would come to see the first three performances out of four. We really thak you, Julian , for accepting all our detailed conditions such as the base on the stage.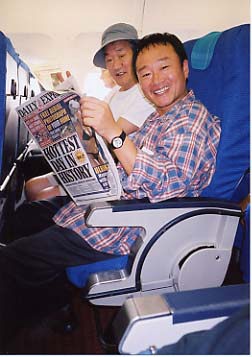 Relaxed with an Engish news paper in hands though can't read it..


Stumbled across my poster in front of the venue.
Aug 12th (the first day of the performances)
A rehearsal from early in the morning. As other groups have shows just before and after ours, we have to prepare and clean up the stage in 10 min. between the shows. We borrowed 4 wooden tables from the theatre from Chicago and 3 tables from the venue to set up the stage for sit down comedy. It was a much tougher work than we thoght.. After practicing several times, we got the hang of it.. Planned 2 hour rehearsal including light and sound arrangements was over before we knew it.. In the afternoon we handed out the flyers in the main street in the Japanese sandwich man's style. This was well received especially among children.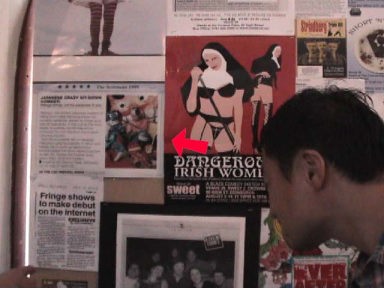 Getting into the venue.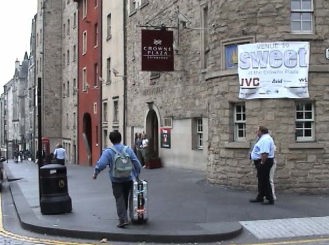 Looking at the artcle of magazine posted on the bulletin board in the venue.


This is the leaflet the venue published.
Setting up the stage went off without a hitch though we still concerned it. The memorable first day's curtain rose at pm6:10. We heard some tickets sold on the day of performance were also sold out. It was a full house beyond reproach.Tonight's performances consist of "the demmonstration of sit down comedy" ,the cominc story telling "ZOO"、"paper cutting art"、and slap stick eco-comedy "Alice In Wonderplanet". Audiens seemed to enjoy my show and Julian and other comedians talked to us happily. We got off to a flying start.
Aug 13th (the 2nd day of the performances)
We had posted so many flyers on columns from early in the morning .The main street, called The Royal Mile, was a pedestrian mall during the festival. There are clumns you can post advertisements on the both sides of the street.. At first, we strated off hesitantly somehow and we found that no matter how hard we poted, all flyers were gone in 2 hours because other groups posted on the top of ours. Finally we got a strategy to get through the system. Now we are skillful enogh to live on posting flyers.


We frantically posted at first.
The sandwich men was still well received. The flyers designed by Mr. K.Matsuda were also so catchy that many people who received gave us questions about the description, when and how long, some goers glanced at the flyers stopped and came back to take them, which made us feel so happy. We were relieved it was a crowd-out for 2 straight days. Setting up and cleaning up gets more smoothly than yesterdasy.
Aug 14 (The tird day)
The review of the show was on "The SCOTS MAN". We heard the rumor that the newspapers of UK tend to critisize severely if the show isn't good. We saw the review timidly. Our anxiety turned out to be in vain.
The content of review was much better than we thought.. When I handed flyers on the street, a woman came close and said "We went to the box office and they said no more tickets here. Where else can we buy it.?"
We've had full-crowd audience three days in a row. And we saw apparently more and more families in the audience. This must be the effect of the review.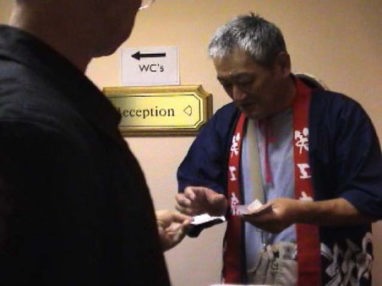 Ticket,please.


The communication to the audience got smoother day by day.


Conveying the story with pantomaim.


There were more young women than we expected.
We recomposed the show and adopted pantomime and the bamboo blind entertainment.. The first day's nervousness was totally behind me. Every ad-libs hit the point.. After the performance, we got an offer from the company in South Africa for The Earth Festival 2004. Needless to say, we got exited talking about what happened today in the pub over many kinds of beer, lager, Guinness and half&half...completely forgot we still have one performance tomorrow.
Aug 15( final day)
Today's performance was decided to broadcast on the internet., which means you can see my show anywhere in the world. I tried to tell all of my friends in Japan but couldn't. Because the starting time here in UK is 2:00 am in Japan. Today is also the last day for preparing flyers and the stage. A staff member started portraits when handing out the flyers. Many of those who were interested in gathered and two sketch books he had were gone before he knew it.. The better-than-expected result of past three days, a bit of relaxation coming from the assurance that I came to know the funny point in English performance and the pressure of live webcast made us comfortably serious.


Sorry to keep you waiting for a long time.


The very last moment.


The producer was very glad to our performance.
~~~~~~~~~~~~~~~~~~~~~~~~~
KakuShow.com